Webster Hogan, he's so fine, he sends the ladies into libidinous convulsions, and creates a yearning for denim vests in every suggestable young man he encounters. He once drank the blood of a falcon on stage, only later to vomit a near perfect casting of his stomach, in coagulated avian corpuscles. Local radio station KWEP held a Webster Hogan rockalike contest, offering as a grand prize, dinner at Le Grandeur Poulon with the man-myth himself. Dozens of stout, sturdy, barrel chested metalheads were hospitalized in their vain attempts to become he-who-can-not-be posed. Eventually the contest was called off due to widespread electrocution and ink poisoning. Webster himself claimed the prize, consuming 2 whole fried chickens, only later to vomit a near perfect casting of his stomach, in extra tasty crispy avian corpuscles.

Kerry, Kerry, so contrary, what the fuck is your deal? Kerry is just too nice, all the time. It gets on peoples' nerves. You know what I'm talking about. He's a weird-ass close talker, you know? Gets just one inch inside your personal bubble, always telling you how nice your shirt looks, even though he's seen it a dozen times. He worked a double shift at the co-op feed store to cover for Brent Cleveland and Paige Fontaine, claiming he just wanted "the experience." They're both still waiting for the other shoe to drop, dig? It's just unnatural. I mean, the guy lives in a fiberglass playground hamburger! By choice! I mean, it's hard to hate on a guy just for being helpful, but you'd have to look all day to find one positively negative trait about him. Ray says his eyepatch smells like "ball mucus," but Ray's just a jerk like that. I dunno. Kerry, man. The fuck?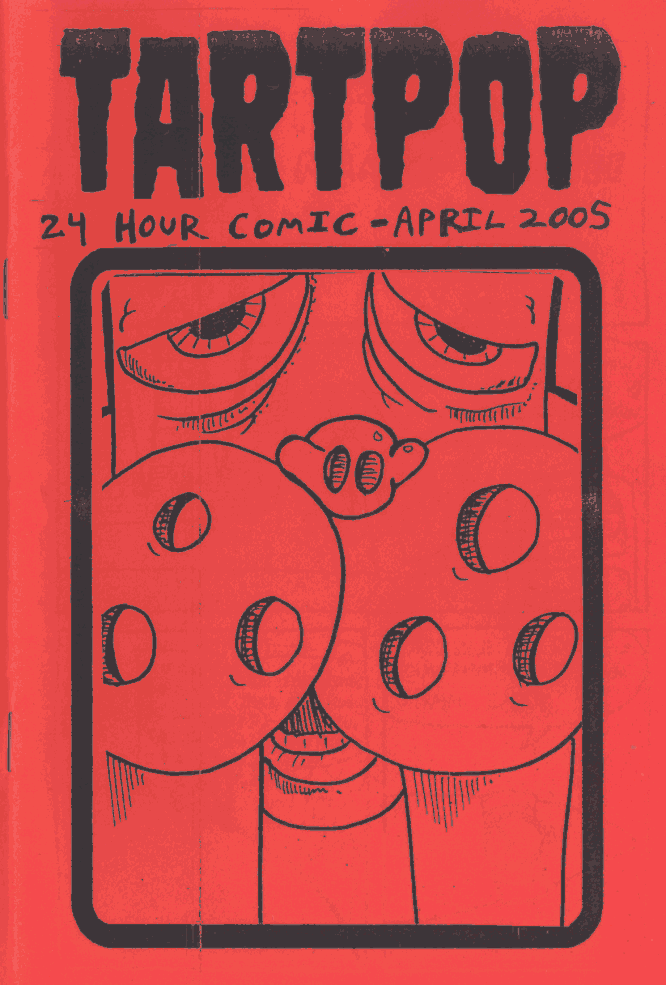 4.25.05
24 hour comic day was a success, and if you click the red page, or here, or here or this thing: & you can read all of it. It was a great time. Thanks to the Cartoonist Conspiracy, Michael & Big Brain Comics, Minnesota Center for Book Arts, Grumpy's, Pizza Luce, Dunn Brother's Coffee, Wet Paint Art, and all the participants, particularly my brother Tone Redmon, homeboy Scott Williams, and new chum David Steinlicht. All three of them succeeded in the challenge as well.
Thanks to H-bomb for waking up to hear status reports all through the night!
HAPPY BIRTHDAY SCOTT!
WAY TO AGE, DAWG.
Remember the last month? Wanna read it again? Well, start here. Wanna read it all on one page? That's fine too, but reccomended for cablers only, y'dig?
MP3 of the Week
The Hell Yeahs - So Many Possibilities
Quote of the Day
"The coffee's not bitter, it's just disappointed."
- Dolores McGinter